As part of our Green living vacation series, we selected another leading Green resort: The Resort at Pedegral, Cabo San Lucas.
As the story goes, owners the Diaz family wanted to access their beautiful beach-front land. The only way to do so, was to carve through the mountain. The best engineers were hired and the magical resort was conceived.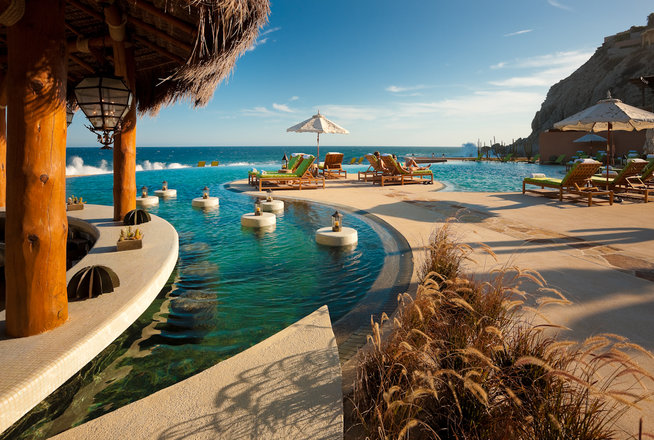 Bar Photo credit: Capella Pedregal
Capella " the double constellation" rests on the southernmost tip of  Mexico's Baja California Peninsula. With 24 mountainside and oceanfront acres, its grandeur complements the beautiful and legendary rock known as Land's End.
The private hideaway is within 10 minutes from the Los Cabos Marina. Guests can embrace the "Cabo culture" with its colorful shops and authentic Mexican cuisine.
The 66-room Capella Resort and Spa is the  flagship beach resort for the Capella brand. The property amenities are extensive and include 4 pools, 3 inviting bars, a private library, a state of the art fitness center, a world class Spa, breathtaking Cliffside dining and so much more. Excellence in service is a crucial element and the very soul of the resort.
Capella's eco-friendly endeavors:
The food in all the restaurants is organic
An herb garden is being created to perform rituals at the spa and for the chef to use.
The use of natural products from "the Organic Pharmacy" at the Spa
Sheets in the rooms are made of organic cotton
The linens are washed with Eco friendly detergents.
The Spa has adopted a Zen and holisitic approach and offers yoga classes
The Kitchen composts and recycles
There are recycling bins on the property
The landscaping is water-wise and requires less water than the norm
Executive chef Marco Bustamante is known for his killer Seabass Ceviche.
Bustamante heads all 3 dining establishments at Capella:
The fine dining 

Don Manuel's

, where guests can also enjoy a healthy breakfast or brunch
Stunningly nestled in the rock 

El Farallon

, which provides superbly fresh caught seafood daily
The more casual 

Beach Club

, where guests can enjoy coastal cuisine
Last but not least: the 12,000 square foot blissful Spa with treatments based on the cycle of the moon.
We experienced one of the flagship treatments: The Rose Crystal Lymphatic Facial. Feather-soft strokes deep cleansing, exfoliation, and rejuvenation. Some other favorites are the New Moon and Full Moon Treatments.
With personalized airport greeting, an enchanting location, unique in-room amenity, maid service at your disposal and fine dining, Capella Pedregal embodies true green  luxury.
You can make reservation through their own travel agents, by calling the resort's reservation team and go to the website.