This is a simple, fast and healthy avocado recipe for you. But before we get into the details, let's talk "Avocados".
They are an excellent source of healthy fats.
Check the nutrition fact for (1) medium size avocado. Courtesy of: http://www.nutritiondata.com
According to the

California Avocado Commission

, a medium Hass avocado contains about 22.5 grams of fat. 2/3 is monounsaturated.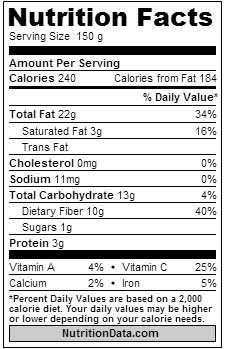 They are low in fructose and provide 20 essential health-boosting nutrients.
Here are the most important ones:
Fiber
Potassium (more than twice the amount found in a banana)
Vitamin E
B-vitamins  and Folic acid
Note: Their skin is thick so pesticides and chemicals cannot get in them. You can buy them conventionally-grown.

Avocado and shrimp salad recipe:

2 avocados pitted

Mix:

1 heart of Romaine lettuce
1/3 cup fresh parsley,  chopped
1/2 pound cooked baby shrimps
1 pinch black pepper
1 pinch

pink Himalayan salt

2 tbsp 

organic lemon juice
Optional: You can garnish with rosemary and parsley
Fill the avocados with mix and serve immediately.
If you are allergic to shrimps you can use canned white albacore tuna or canned wild salmon.
Serves 2

Enjoy!

We recommend 

Living Tree Community Foods

 as a good source for the  olive oil and  Himalayan pink salt.
Make sure you get the shrimps from a reputable source. Stay away from imported shrimps. They may contain contaminants such antibiotics, cleaning chemicals used in farmed shrimp pens, residues of toxic pesticides banned in the U.S.
For more recipes with avocados: Visit the California Avocado Commission's

website

. 
REFERENCES:
1. Nutritiondata.com: "

Avocados, raw, all commercial varieties

". Web. 3 July 2013. 2013.

.

3. Dr. Joseph Mercola: "

The Many health benefits of avocados

".

Jan 17, 2013.

 

Web. 3 July 2013.