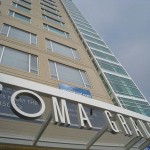 Soma Grand is a beautiful high rise in the heart of SOMA, San Francisco, and it captures High Rise living at its best.
We are fans of this place as it has adopted sustainable practices and leads by example in the city of San Francisco.
In its effort to reduce energy usage, the SOMA Grand has received $28,000.00 in lighting incentives so far and is now in the second phase of retrofitting new, energy efficient lighting throughout the building. The common area has attractive landscapingthat requires half the irrigation levels typically used by similar developments. Just recently, we were privileged to host a green living event and wine tasting for its residents.
Guests were eager to hear what we had to say and got a chance to taste some superb R&B Cellars wines and exquisite hors d'oeuvres courtesy of organic eatery Papito.
Simple green tips we shared with the residents:
Some green companies and places we recommend to follow up on these tips:
For Low VOC Paint: C2 and G&R Paint
For Natural home cleaners: Earth Friendly Products
For Window Coverings: SophiSticate Interiors
For Air purifying plants: The San Francisco Flower Mart
We want to thank Earth Friendly Products, Living Tree Community Foods, Numi Tea, R&B Cellars, Shear Miracles By Robyn, SophiSticate Interiors and Suki for the raffle prizes and samples.