A healthy giveaway for you!
Our  giveaway this time is: The fruit and vegetable wash from Earth Friendly Products.
It is essential to wash your veggies and fruits to remove wax, chemicals, dirt and toxic pesticides.
Made with the purest of ingredients this wash is  gentle, non-toxic, biodegradable and chemical-free. Your food will taste the way nature intended it to be.
Take a healthy step!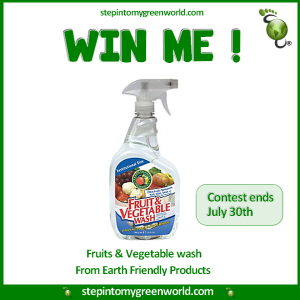 IN ORDER TO WIN, YOU NEED TO TAKE A HEALTHY  STEP: SIGN UP TO OUR NEWSLETTER so we can notify you if you win.
Sweepstakes ends July 3oth 2013. WE WILL ANNOUNCE (6) WINNERS.
For all you need to know about the fruit and vegetable wash.

ENTER TO WIN!